Pretty difficult to get a good shot of this, it's a clear varnish on a black background, a trick I've done a few times before with my own releases. CD promos came in last Thursday and the vinyl is due today – *excited*
And here's a teaser poster for the forthcoming King Cannibal LP I knocked up last night…  thanks to grohs for pointing out the cut-asses double entendre, it will be changed on the final poster.
Been busy doing all sorts of things and not had time to post much but I did a short interview with the Keep Up! guys a month or so ago and it's on their site right now. It's about the making of the King Cannibal 12″ cover which is just out and available to buy here. The Keep Up! interview is here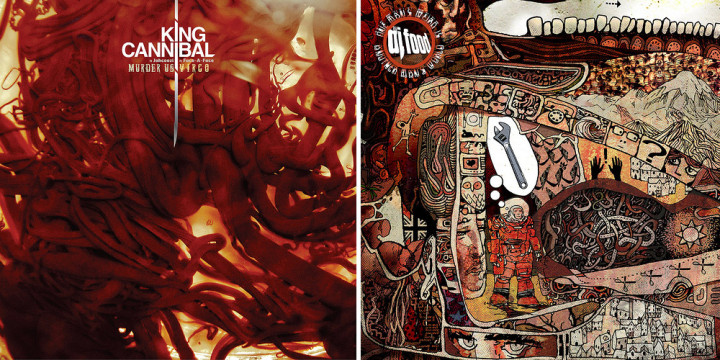 On the subject of my own release, i've posted the artwork on my Flickr page and the release is now July 6th I'm told, by which time I should be well into the second EP for delivery a month later.
I'm currently finishing artwork for The Herbaliser's 'Session 1' (reissue) and 'Session 2' (all new live recordings of Herbs classics) and starting King Cannibal's LP art