From an issue of i-D magazine dated Aug '86, this recently turned up in an expedition in the Secret Oranges archive (incidentally it's Steve Cook's birthday today). A rather risqué ad for Sigue Sigue Sputnik's debut album, 'Flaunt It', which I seem to remember got banned from most publications at the time. I'm a big fan of Sputnik, especially this Giorgio Moroder-produced album and its surrounding singles, so you'll occasionally see posts about them featured here.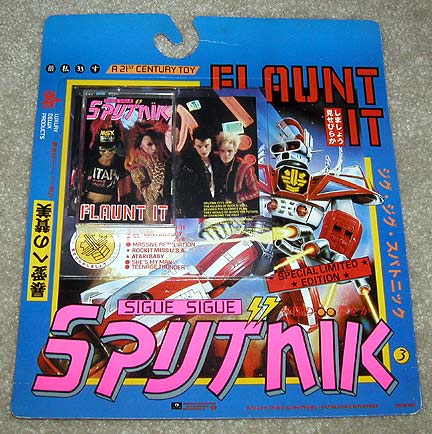 Tony James, band leader and general mastermind behind them recently wrote up their history at length on their newly-launched website and it's a candid, no-holds-barred read. As with any history, it's his version of events and I'm sure there's another side to it but he's very forthcoming about the failings of the second album and the record industry crap that went with it. There are also all sorts of outtakes and demos up online under the heading 'Demobomb' which are pretty illuminating in terms of how they got their sound.
Also below is the news piece from Sounds the week the band signed their 'million pound' deal. This was quite something at the time as the band had a lot of hype surrounding them without a recording to their name but had managed to get the sort of double page features in the music press usually reserved for established artists. Also if anyone has a sealed copy of the cassette on card version of this album, (see above) packaged to look like a toy, then I'm still looking for a copy.