I've been having a reacquainted love affair this year with all things analogue, seventies and sci-fi. It seems to happen every few years and all I want to look at are curved edges, computer fonts, muted tones and airbrushed images from the days before computers made everything virtual. I've been doing a T- shirt design based on the Moog and whilst doing some research I stumbled upon this site.
Someone has scanned several issues of a synth mag from the mid seventies called Synapse. It contains interviews with people like Eno, Zappa, Kraftwerk, Herbie Hancock, George Duke, Bob Moog, Pat Gleeson and a whole lot more. In amongst all this are reviews, how-to's and loads of ads for what are now vintage synths.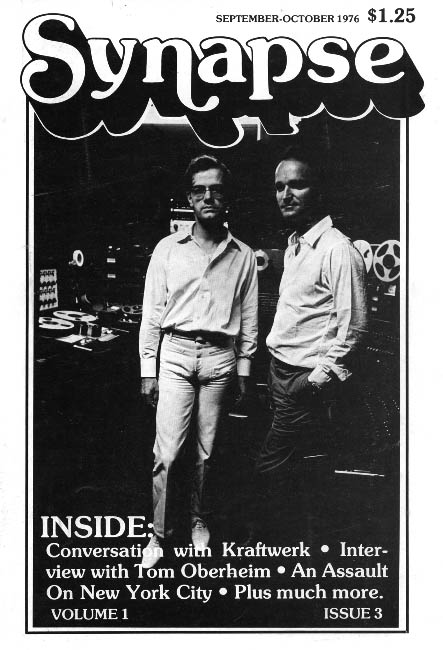 The Kraftwerk interview is great, at one point they talk about a comic they've made where small plug-in systems try try to make contact with all these inputs and outputs, coming together to make a group. They talk about doing a book where they present more of their work to people in ways it can't be shown on record. Shame it didn't materialise.
What has materialised at long last though is the fabled reissues of their albums from 1974 -2003 – known to fans as 'the catalogue' – and originally meant for release in 2004. Some promo copies even slipped out but then nothing, now they are finally available via Mute in the UK. Now that's one set of remasters I've been looking forward to whilst everyone else bangs on about the other Fab Four.