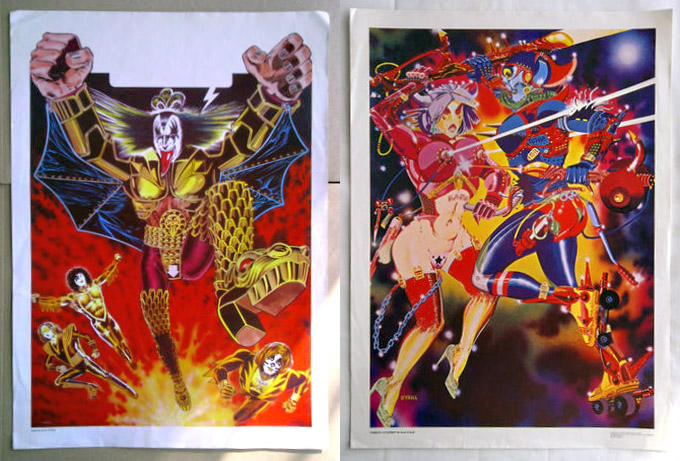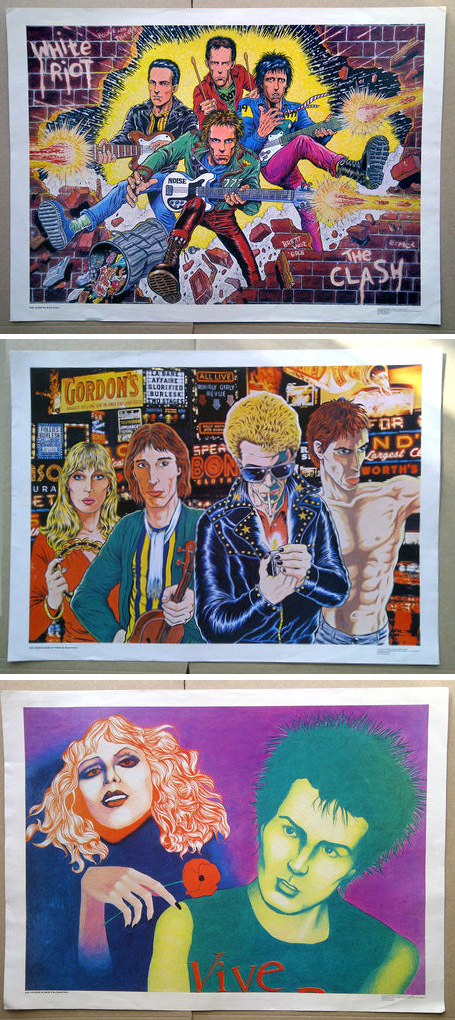 These vintage posters from the late 70's, and many more of their kind, went up on eBay today from the seller v6kentman.They're something you rarely see these days in a world where image and copyright is controlled meticulously; illustrated versions of current music idols, originally printed by Communication Vectors of London in 1979 and sold as posters.
What makes some of these especially interesting to me is that they are illustrated by some of the best of the UK's underground comic artists at the time: Hunt Emerson, Kevin O'Neill, Bryan Talbot, Brett Ewins, John Higgins and David Hine. I've seen the O'Neill ones before but the rest are new to me and there were a lot of them it seems with 2 series', A & B.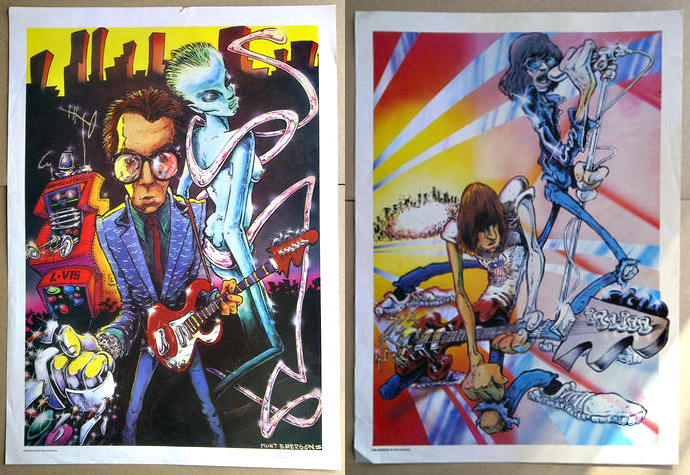 I can find virtually nothing about these on the web aside from a few more examples like Sid Vicious by Ewins and The Sex Pistols by Emerson. If anyone knows more about them then please get in touch. V6kentman has many more for sale though, all starting at £9.99 and featuring loads of other artists such as The Stones, Bowie, Ian Dury, The Runaways, Dylan, Zappa… some great, some not so successful. All fascinating to see though and linked in to a project I'm researching on music illustration in UK magazines from the 70's onwards.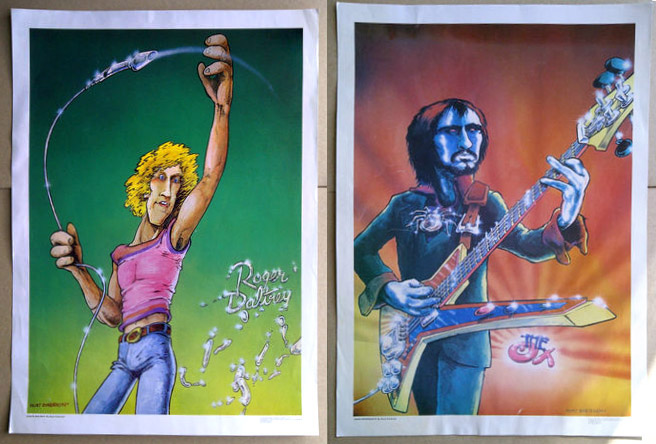 PS. David Hine writes:
"I hate that illustration! I think that was done 1979 or 1980. There were dozens of posters produced by Communication Vectors. This company, run by a guy called Mal Burns, also produced the comic Pssst! It was a weird setup, I think the money came from a mysterious French millionaire.
I do remember that all the submitted artwork was exhibited in a room and artists were invited to a meeting to vote on which should go to print. It was a ridiculous system. Only a small proportion of the artists were able to get there and I confess we fiddled the vote along the lines of "I'll vote for yours if you vote for mine." There were posters by Hunt Emerson, Bryan Talbot, Brett Ewins and Brendan McCarthy among others. Here's a link to Brendan's excellent take on The Specials and Johnny Rotten: I think I also did a Buzzcocks print. We were well paid for the time – £200 per artwork if memory serves."