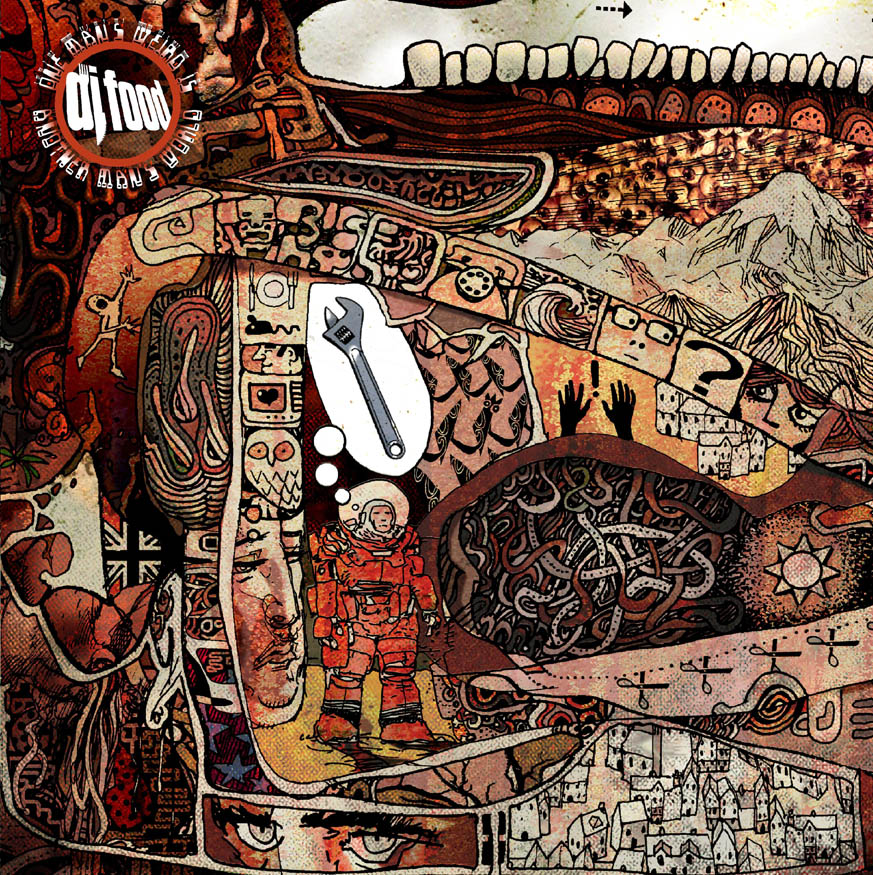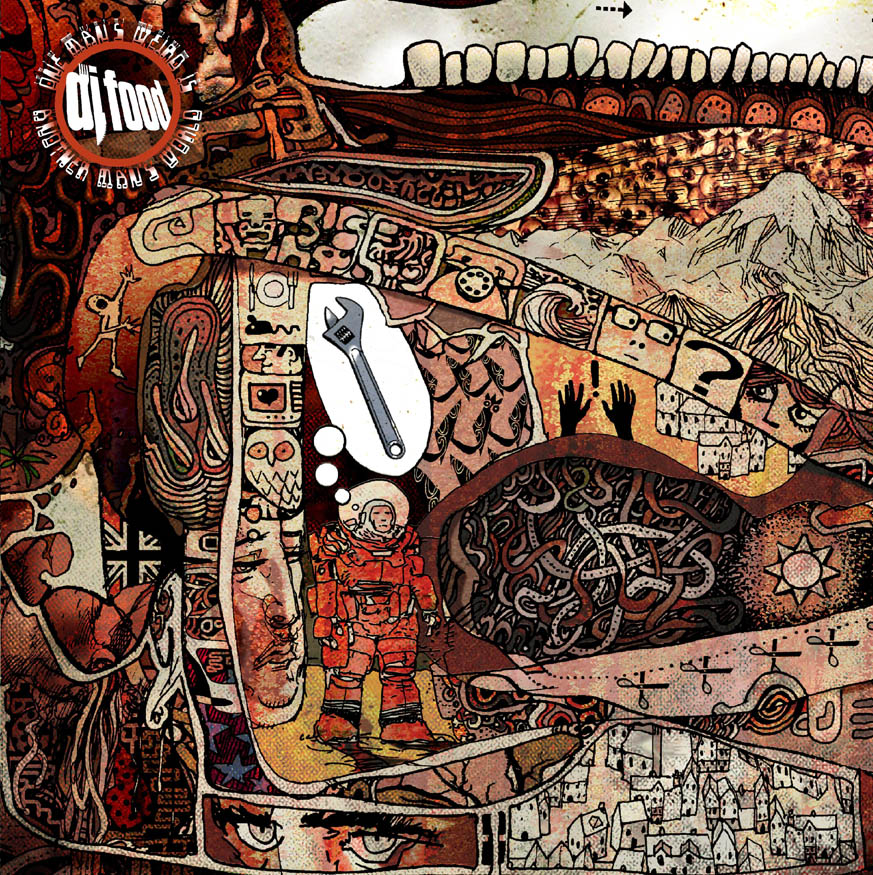 It's here, you wait for ages and then three come along at once. Yes I finally got round to releasing another record and it's out today, a 30 minute EP on Ninja Tune called 'One Man's Weird Is Another Man's World'. It features the vocal talents of Natural Self (yes, I said vocal) on lead track 'The Illectrik Hoax' and the nifty drums of Dr. Rubberfunk alongside the sampled vocals of Ken Nordine and The Dragons on 'All Covered In Darkness'. Bundy K Brown is behind the board for 'A Trick of the Ear' and an old collaboration with PC makes it's first appearance in the form of 'extract from Stolen Moments'. 2000ad artist Henry Flint graciously provided drawings for the cover art to make it something worth having and holding when it folds out to an A2 sized poster. It's available in the form of a 5 track 12″ with poster cover and download code or a 6 track mp3 bundle.
You can hear selections from it on my Soundcloud and buy it from  iTunes /  DJ Download /   Play.com /  Spotify /  we7 /  Ninja shop /  HMV Digital /  Bleep / Tune Tribe /  7 Digital / Juno / Boomkat
There's an interview in the new Clash Music magazine including a free mp3 and a very nice review by Mark E on Ireallylovemusic
Not only is there a new record but the near mythical DJ Food site is finally ready, choc full of stuff from my Openmind alter ego design work past and present and a full DJ Food discography stretching back nearly 20 years. If you want to know anything about the records connected to this moniker over the years then it will be there along with gig dates, blogs, playlists and more. The site is divided into 4 sections: Diary, Design, Discography and Downloads and you can subscribe to the blog without going through myspace at last. It's still a work in progress as there is so much to present, especially on the design side of things as most entries provide stories, alternate artwork and release info. A big thanks to Dean at Safe As Milk for all his hard work on making it what it is.
And finally, it's a Solid Steel takeover this week with an hour long mix from myself based on the EP with tracks from all the contributors, some original sample sources and various things I that inspired the making of it. The second hour is a fantastic mix from The Broken Keys – aka Natural Self and Nostalgia 77 – called 'Engine Oil and Elbow Grease', stuffed to the brim with old funk, rock breaks and psyche. You can listen here.