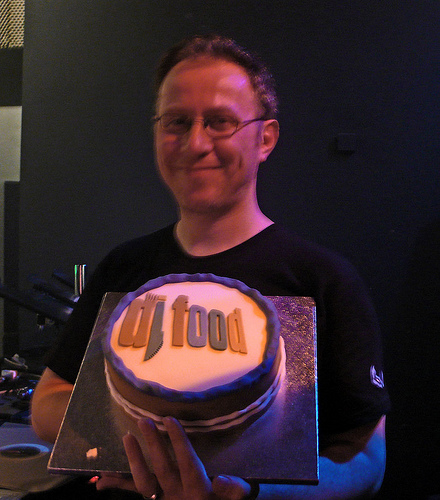 …and they did. I just played my first AV set in Ireland at Twisted Pepper in Dublin and local DJ Kormac and crew organised a special DJ Food cake for me. Props to him as he played a great set and passed on a mix for a forthcoming Solid Steel show. Also thanks to Mark Cantwell of ItIsOn, who is nearing completion on his ongoing Raiding the 20th Century, film for the photos.
It's been an exhilarating and frustrating couple of weeks recently. I'd been having mysterious computer problems, random freezes, beach balls of doom and general start up problems with my main Mac Pro machine. I just managed to finish the artwork to my EP when it really went into meltdown and I spent days trying to find the source of the problem. Finally a random forum post pointed to a faulty batch of video cards shipped with my generation of Macs. Apple – to give them credit – agreed to replace the card without question or cost and the machine was shipped off to the nearest workshop for a week.
At the same time I got the proofs back to much ooh-ing and aaah-ing (see last post) and the mythical DJ Food website is under reconstruction (this is mk 2 – mk 1 in all it's guises is officially laid to rest). I'm pretty confident that this incarnation will be operational within a couple of months minimum although it's got a hell of a lot of content for me to upload.
I've spent the past week messing about in various situations with photographer Martin LeSanto-Smith trying to get some interesting press shots out of my horrendously unphotogenic form. We've got some pretty nice stuff but there's still a lot of Photoshop work to be done on some so you're spared for the moment. Got some pretty interesting shots by pointing two MacBook Pros at each other, ichatting via the video link and generating video feedback from the inbuilt cameras. Not sure if Ninja will go for them but I think they're the best of the bunch so they'll end up somewhere.
Promos of the EP should be going out this week to press, I'm in the middle of artwork for The Herbaliser's 'Session 1 & 2' release(s) for !K7 and about to start the King Cannibal LP art which will possibly be the weirdest thing I've ever done. As soon as that's finished work resumes on the next Food EP…