I can recommend this to anyone with even a passing interest in Brian Eno although there are plenty of insights into many of his associates over the years too – Fripp, Bryars, Cale, Ferry, Bowie, Byrne – they're all here. The bulk of the book concentrates on the 70's and the research is impeccable. It's no rose-tinted ride either, there's dirt amongst the many platitudes despite this being 100% Eno sanctioned which is refreshing. Occasionally it does seem that he can do no wrong and this isn't all the writer's imagination as the hit factor on projects and records involving 'The Captain' is remarkably high when you collect them all together. Amongst the reams of info in the book I was surprised to learn that Brian doesn't drive and that, when he first moved to London in the sixties, he lived about a 5 minute walk away from where I currently live.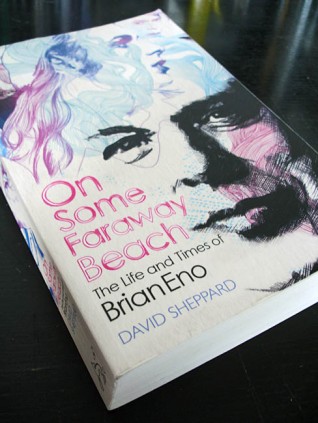 My only criticism of the book is that the ending  feels rushed and lapses into 'list-mania' seemingly trying to cram everything Eno has done into a rapidly dwindling page count. We spend 360 odd pages idling through the sixties and seventies up until 1984 and a phone call from U2 and then it's a headlong dash through the next two decades in less than 100 pages. True that the meat and the more interesting material has been well documented and most fans will want his early career explored to it's fullest – and they won't be disappointed – but after the expert job done with the first half the end leaves you feeling frustrated.
Saying that it's only about one fifth of the book and the other four are a gripping read, you really wonder how he managed to fit so much in and be so on top of the game for so long. All his major releases and collaborations are explored in detail with plenty of archive interview material interspersed with modern day recollections from friends and family past and present. The dilemma-solving Oblique Strategies are present throughout and I have one of my own which I keep in mind whenever I get stuck on something – "What would Eno do?"
My Funky Eno mix "More Volts" is also still up on the downloads page if you haven't heard it.