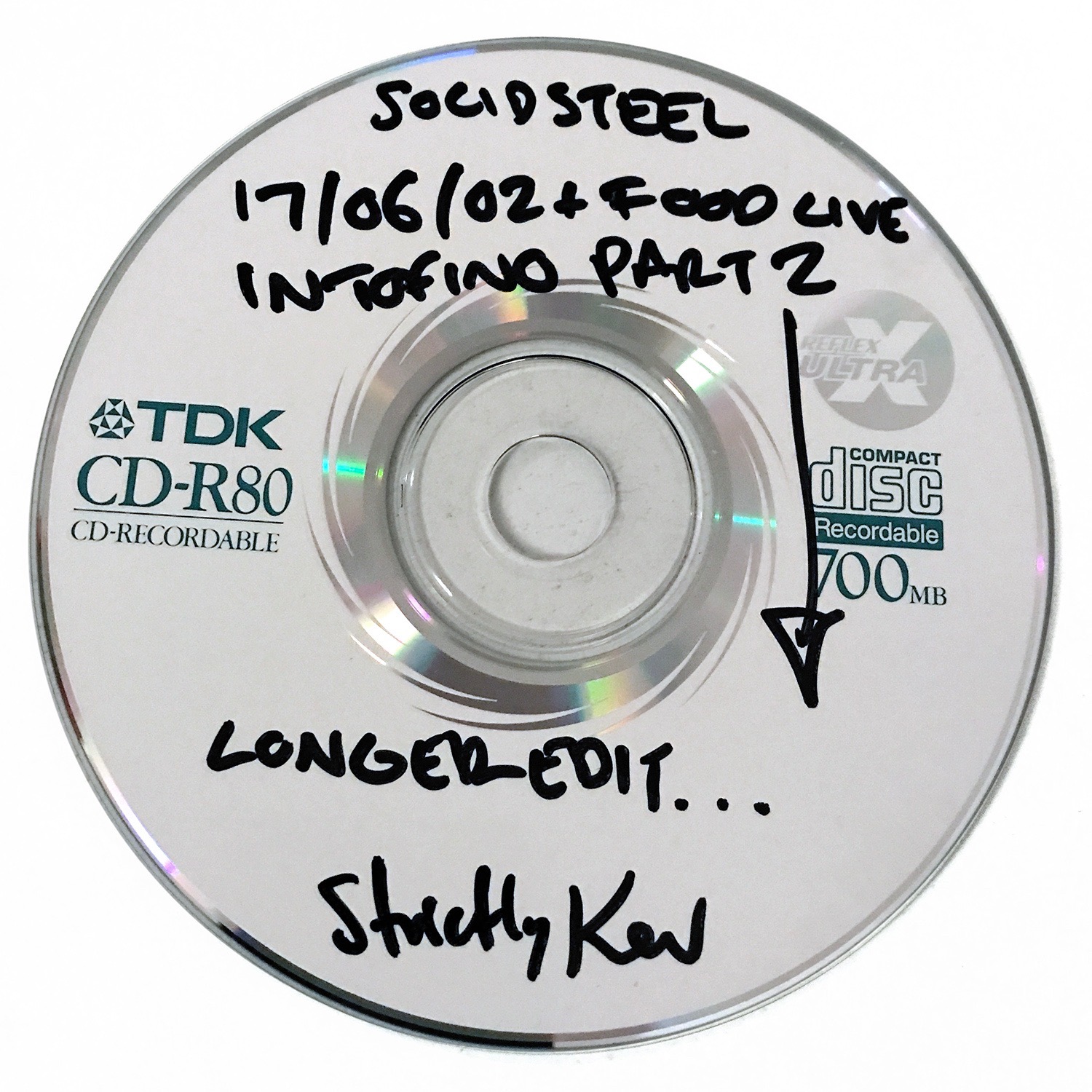 The CDr tells me this is a longer edit of the set that finishes the live in Tofino gig I posted part 1 of last week – at 42 minutes I assume only 30 mins was used on the show. While there was a snatch of what I presume was the Dreadlock Holiday mash up 2 Many DJs did with Destiny's Child creeping in at the end of that set, we blast into Quantic Soul Orchestra's 'Super 8' here. I remember Will from Quantic telling me he'd recorded those drums on a mini disc at the time and this was when everyone was trying to put drums down to tape to get that 'analogue distortion' – sounds like mini disc worked pretty good too. This was a raucous 45 and the first of many killer cuts Tru Thoughts put out in the 00's that established the label. Gotta say, that 'Poppa Large' acappella sits nicely over the top, some quick cuts between Dennis Coffey and the Mowhawks funk classics and Breakestra retread of 'Humpty Dance' and then into a pairing I'd completely forgotten about.
The pairing of Playgroup's 'Number One' with the dub mix of Time Zone's 'The Wildstyle' works amazingly well until the end when things get a bit messy as they're adding odd spoken word over the top – must revisit that and maybe do a re-edit. Into the bonus beats of Talking Heads' 'Once in a Lifetime' classic before a quick flip over into the vocal and a rather messy mix of 'Apache' being cut up by Grandmaster Flash from the BBE sampler. I was rocking the odd country number that breaks down into an amazing break by the name of 'Saga of the Blue Beaver' at the time and then we go full on party time with Mr On's cheeky pairing of 'Don't Stop 'Til You Get Enough' with 'Breathe & Stop' – one of the better early mash ups. Then what sounds like an edit brings us to a pumped up electro version of Prince's 'Kiss' – no idea who did this, any ideas? We're veering into cheese territory before Rufus Thomas' 'Itch & Scratch Pt.2' pulls us back but, oh no – I'd really caught mash up fever around this time and Madison Avenue's 'Don't Call Me Baby' gets paired with Blur's 'Song 2' and, to be fair, this absolutely tore it up at the time as it was all so new.
Back to the funk with Paul Humphrey & his Cool Aid Chemists with the awesome stop/start of 'Funky L.A.', galloping stormer of a 45 before a switch of tempo into a well known pairing of Mr Scruff's 'Ug' with DJ Vadim's 'The Terrorist' from the Now, Listen Solid Steel mix CD a year before. A snatch of Cut Chemist's 'Bunky's Pick' before Reuben Bell's 'Superjock' – given a second outing a year before with Cut and Shadow's Brainfreeze 45s mix – and then a, frankly, ham-fisted mix into Q-Bert's amazing scratch cut in the form of 'Bear Witness' by Doctor Octagon. I used to do a trick with Pharoah Monch's 'Simon Says' where I'd hold the Godzilla sample and scratch it into the Addams Family theme tune and this is what rounds the set out. It was originally created for the aforementioned Now, Listen mix but unfortunately we couldn't license it (because they'd sampled Godzilla!) so I would do it at gigs and it always went down well once the crowd caught on.
Track list:
Quantic Soul Orchestra – Super 8
Ultramagnetic MCs – Poppa Large (acappella)
Dennis Coffey – Scorpio
The Mohawks – The Champ
Breaksetra – Humpty Dump
Playgroup – Number One
Time Zone – Wildstyle (Original 12″ dub mix)
Talking Heads – Once In A Lifetime/bonus beats
The Incredible Bongo Band – Apache (Grandmaster Flash Rock Steady Mix)
Beaver & Krause – Saga Of The Blue Beaver
Mr. On vs Jungle Brothers – Breathe Don't Stop
Prince – Kiss (unknown electro mix)
Rufus Thomas – Itch & Scratch Pt.2
Unknown – Don't Call Me Song 2
Paul Humphrey & his Cool Aid Chemists – Funky L.A.
Mr Scruff's – Ug
DJ Vadim feat Motion Man – The Terrorist (acappella)
Cut Chemist – Bunky's Pick
Reuben Bell – Superjock
Doctor Octagon – Bear Witness
Pharoah Monch – Simon Says