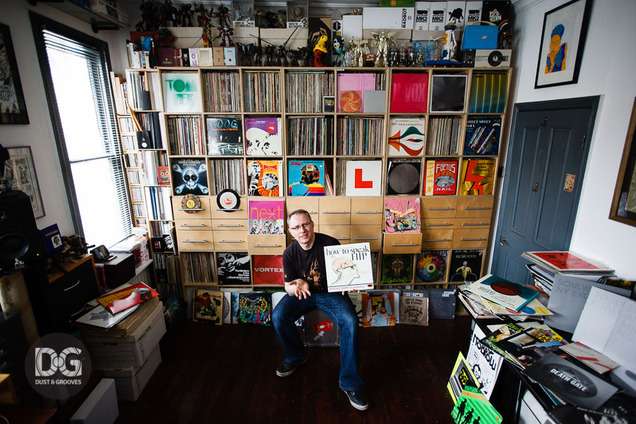 If you've arrived here via the Dust & Grooves site feature on my collecting then the following is an in depth explanation of the mix made especially for that article. There will be some duplication with the D&G piece along the way, hopefully there will be plenty more to hold your attention though.
If you've not yet seen the feature and the beautiful photos by Eilon Paz then get yourself over there and check out the wonderful site when you have a spare couple of days.
How to make a mix of the favourites from your record collection? Impossible at best for as soon as you start combing the racks for 'the essentials' you quickly realise that half of it is worthy and you're going to have a 10 hour set on your hands. For my Dust & Grooves mix I set myself a brief of picking tracks that had made a huge impact on me on first listen, shivers down the spine excitement, the shock of the new. Mind blowing sounds that somehow influenced me and fed into the mess of musical connections and contradictions that make me who I am today.
I also wanted to present them in the order in which they were released as far as possible thus making a chronological timeline as my listening habits progressed. This was a ridiculous idea and made the whole thing so much harder but sometimes interesting things happen from constraints and that probably says as much about me as any of the records here. Keeping this down to under an hour was also a tough call and sacrifices had to be made, not just losing artists but also in editing down songs – the essence of the essentials if you like. None of these records or songs are rare (with one exception…) and you will most likely be able to pick any of them up cheaply and easily. This isn't some showboating 'look at my rarest items that you'll never have' kind of mix, it's about the songs and sounds that have signposted my early musical input and led to later collaborations both musical and artistic.
DJ Food – Influences 57-92 for Dust & Grooves by Dust & Grooves on Mixcloud
We start with an intro from Ken Nordine, presenting 'Sound Paintings' and he'll be returning throughout as a guide, touring the record bins and opening doors to different parts of the psyche. He has a connection to several people in the selection, Mixmaster Morris (who features later under his Irresistible Force guise) first turned me on to him when we first met and I later went on to work with Ken in 2000 on a version of his 'The Ageing Young Rebel'. When Eilon from Dust & Grooves came to my studio and I started pulling records he immediately recognised the Word Jazz LPs as Dom Servini had shown him the same when he'd visited his home earlier in the trip. So, even though I didn't hear Ken until 1993, we start with him for Eilon and already the chronological timeline idea is knackered although it is technically the oldest record in the selection, having been released in 1957.
OK, to the real beginning: Kraftwerk's 'Autobahn', I probably heard songs before this but I don't remember a piece of music affecting me in the same way this did. Heard from a tape my dad made of the single in the mid 70's (I would have been about 5) and it stuck with me because it scared me and signals a love of electronic music. Even more so because the band would go on to become so influential not just to me but for so many.
It's well known that the band took inspiration from The Beach Boys for the 'fun, fun, fun on the autobahn' refrain so I paired the two up with a slice of my favourite Beach Boys song (and there are many), 'Surf's Up'. I'm not ashamed to admit that this track has reduced me to tears on a few occasions and I was obsessed with the whole 'Smile' saga from whence it sprung as the nineties came to a close. Here I have each band dueting, trading lines in the tradition of all the best mixes, two elements that shouldn't work together but in doing so create a third. Gary Numan was another electronic pop musician who instantly appealed when 'Are 'Friends' Electric?' climbed to the no.1 spot in the charts in 1979 and I followed his career for a good few years afterwards.
The Queen soundtrack to the 1980 remake of Flash Gordon was the first cassette album I ever bought (I didn't actually have a record player until I was 13) and I played the shit out of that little tape. In the tradition of listening to one collection again and again I got to appreciate the album as a whole rather than cherry pick my favourites. It was paced the same as the film and included dialogue to push the story along and spoken word has always been a favourite component of 'music' for me. The same thing propels the intro to 'Blush Response' from the score to Blade Runner, the tense meeting of Deckard, Rachel and Tyrell before the release of Vangelis' icy, fluctuating keyboard work. Both of these soundtracks signpost an early love of sci-fi film with synthesiser-led scores (the orchestral bombast of Star Wars never really did it for me).
The Human League, although starting out around the same time as Numan in the post punk landscape were beaten to the punch chart-wise by Gary and the cash-in re-release of their first single, 'Being Boiled', post-'Don't You Want Me' success was the track that resonated most. That eerie build up with Phil Oakey's, 'OK, ready, let's do it' casually left in before Martin Ware's gothic Korg 700 bass line comes in. Listen to the voice of Buddha indeed, so great we included it near the start of mine and DK's 'Now, Listen Again' Solid Steel mix CD.
Eno & Byrne's world music collage collaboration has never been equaled to my mind and although I didn't hear it until the early 90's it's tucked in here as it was released in 1981 and dovetails nicely with another world music smash and grab by the white man.
Malcolm McLaren's 'Duck Rock' album had all sorts of ramifications in my musical landscape, not least because it bought a bastardised version of Hip Hop to Europe with graffiti, scratching, rapping and breaking alongside the Westwood fashion and Keith Haring artwork.
I vividly remember first hearing 'Buffalo Gals' on the top 40 countdown and almost being disgusted by the mess of it. As a song structure it just didn't make any sense at all, seemingly random elements all thrown together periodically stopping to be primitively scratched. My 13 year old brain couldn't comprehend it at all, I still don't think it's a great song but the album it comes from is a giant flagpole for things to come, mainly for the production team of Trevor Horn and the early incarnation of the Art of Noise.
Which brings us to a little Zang Tuum Tumb megamix section, full of synths and samplers, sex and slaves, drum machines and 'Dr Mabuse'. Art of Noise's 'Beatbox' was the first release from the label in late '83, closely followed by Frankie Goes To Hollywood's 'Relax' (which only gets a tiny look in here unfortunately). Propaganda's debut, 'Dr. Mabuse' was the third release and appears in extended form before the title track of Frankie's debut album gets a truncated turn.
Rounded off by a little gem of an unreleased mix of Grace Jones' 'Slave To The Rhythm' by Bruce Forest of Better Days fame. This is where I show off my digging credentials for a minute, this percussion-less mix for voice and orchestra was done on spec in the early 90's by Bruce and remains unreleased as yet (although I'm trying). For the full story know that this is an edit of the full version and another exists that reinstates a lot more of the EU GoGo percussion. Both were done from master tapes at the Sarm West studios in London and hopefully one day they will see a proper release.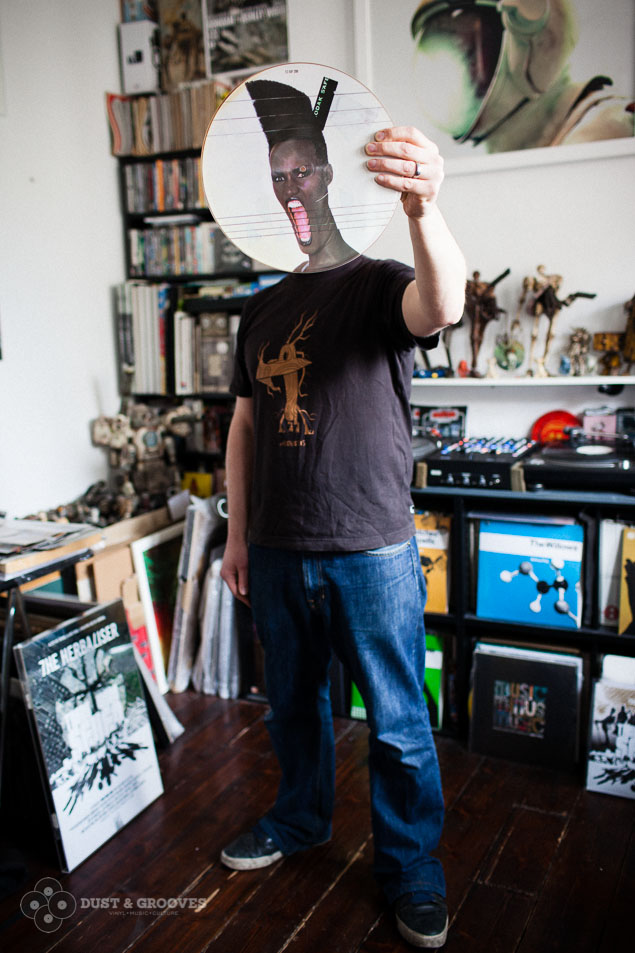 We're now in the mid 80's – a turning point for pop music and also for me as I dove headlong into Hip Hop with a passion for the rest of the decade. Without a pause we jump from 'the Rhythm' to 'the Rebel' (see what I did there?) and Public Enemy's classic squealing sax 'n' funky drummer smash. I remember the hairs on my neck standing on end when I first heard that transformer scratch after Chuck D roared, "Terminator X!" (even though it was probably Johnny 'Juice' Rosado who made the cuts).
I originally had four PE tracks in the mix, starting with 'Son of Public Enemy', the B side of their debut under that name and the first I heard played on the radio. The JB's 'Blow Your Head' moog solo was so alien in Hip Hop and with the formless Flavor Flav freestyle over the top it just sounded even more extraterrestrial. This was excised from the mix along with the Terminator X Getaway Dub of 'Your Gonna Get Yours' from the A side of 'Rebel…'s first release but I did also include 'Countdown To Armageddon'. The opener from 'Fear Of A Black Planet' is in there because I was actually at the gig it was recorded from at the Hammersmith Odeon in London and even briefly met Chuck and Flav outside beforehand. Everyone has a few 'I was there' gigs and this is one of mine.
Around the same time a couple of self-appointed dance floor hooligans were showing the yanks that they could play the same game and after the Double Dee & Steinski homage of 'Say Kids What Time Is It?' Coldcut kicked the doors in with 'Beats n Pieces'. One of the heaviest sample-led dance floor demolishers to emerge from the UK up until Depth Charge waded into the fray (sadly missing from the line up here) and, unbeknownst to me at the time, set to play a huge part in my musical journey (into sound) during the next decade.
Rewinding a couple of years to 1985 when I had a revelation the first time I tuned into Mike Allen's Capital Radio weekend Hip Hop show and amongst the unaffordable US imports I would come to covet was Word of Mouth's 'King Kut'. Featuring DJ Cheese who would go on to win the DMC Championship a year later on the cuts, it was everything I wanted to hear at 15 – beats, rhymes and scratches. Cheese's cuts were hugely influential for me but he never got a chance to shine much after his DMC win although he guested on many tracks, he received little or no credit and fell foul of bad management.
The Beastie Boys' 'Shake Your Rump' needs no introduction or explanation except to say that most tracks in this mix are just one extract from albums that are cornerstones of my collection and musical education. Several have had to be left out such as De La Soul, Tackhead, Double Dee & Steinski and Foetus because of time constraints and musical shoe-horning for the sake of it isn't my style. The The had to be in the mix though and I've not picked an obvious track for this one, more something that suited the mood and tempo of this particular part of the timeline. 'Twilight of a Champion' is from side 2 of 'Infected' but I could have picked anything from that or Matt Johnson's 'Soul Mining' debut. Interestingly the orchestral arrangements on this track were by ZTT artist at the time Andrew Poppy and Art of Noise member Gary Langan mixed a couple of the tracks on the LP.
From here we jump back into Hip Hop with more UK rap from Hijack, giving Public Enemy a run for their money and influencing DJs like Q-Bert in the process with the amazing cuts from DJs Undercover and Supreme. This group were so good they were one of the first UK acts to land a US record label deal, with Ice T's short-lived Rhyme Syndicate, whilst they were nurtured by Simon Harris in Britain on his Music of Life label. Note how only a year on from Coldcut's game-changing remix of 'Paid in Full' they reference it at the start of the track and then rip the needle off the record. So many people started copying the 'This Is A Journey' spoken word back then that it got old real fast. Another Brit copping an ear to what the Americans were doing before he moved to the West Coast was Jack Dangers and Meat Beat Manifesto, an early adopter of sampling after starting with more industrial roots. 'I Got The Fear Pt.1' from the amazing 'Storm The Studio' LP is cut from the same cloth as 'Hold No Hostage' being that they both sample from the same source except Hijack beat MBM by a year.
There's a quick Jungle Brothers a cappella from their criminally undervalued 'Done By the Forces of Nature' LP before we hit Acid House territory with Stakker's 'Humanoid'. This is the track were I finally 'got' what Acid was about after hearing various bits and pieces and not being too impressed (I was heavily into Hip Hop's golden age at the time). Also the fact that Brian Dougans – later to become one half of the Future Sound of London – was responsible for this tells you something and I had their 'Expander' lined up to go into the mix later but couldn't make it work.
William Orbit's stunning Spatial Expansion remix of S'Xpress' 'Hey Music Lover' follows, search out the full length version as it's one of the best mixes he's ever done and a pinnacle of the UK dance music scene of the late '80s. The Orb had to feature and, were I keeping to the progressive timeline, I would have included 'Little Fluffy Clouds' or 'A Huge Evergrowing Brain…' at this point. Instead I've jumped forward a year to 'Close Encounters' from their second album as it suits the wind down into the ambience that follows better.
By 1990 I had moved to London to study graphic design and left most Hip Hop behind for electronic 'dance' music, the copycat gangsta-isms of Rap beginning to bore me. Madchester and baggy were in full swing but I was more interested in 'intelligent techno' as it became known and the emerging ambient scene. The Orb, were central to this along with the loosely affiliated KLF who soon made the jump into the pop charts. The latter's 'Chill Out' LP knocked me out as I'd never heard anything like it spread over a whole album before. It's pretty difficult to choose a single track from so I've just included some moments that stuck in my mind – "rock radio, into the 90's and beyond" seeming apt at this point.
Another huge champion of ambient music both then and now is Mixmaster Morris aka The Irresistible Force who I met at some point around 1992 and was a huge influence on my musical education for a few years. He played so many artists who are now considered the foundations of the genre to me for the first time. He also gave advice and info including a contact for Matt Black of Coldcut which set me off on the path I would follow for the next two decades. I have much to thank him for and include a section of 'Mountain High (Live)' from his unfairly overlooked debut 'Flying High' here in tribute. Find a copy, it's beautiful and this track alone is 20 minutes long.
Since I'd moved to the capital I had access to the newly launched KISS FM station with Colin Favor and Colin Dale's techno shows on a Monday and Tuesday night which I religiously tuned in to. This was where I first heard Aphex Twin's 'Digeridoo' which was like being run over by a steamroller at the time as it was a good 10 bpm faster than everything else. That started a love of his music which continues to this day and nearly rounds out the mix as I've chosen to stop at 1992 – a particular turning point in my life as well (a story for another time).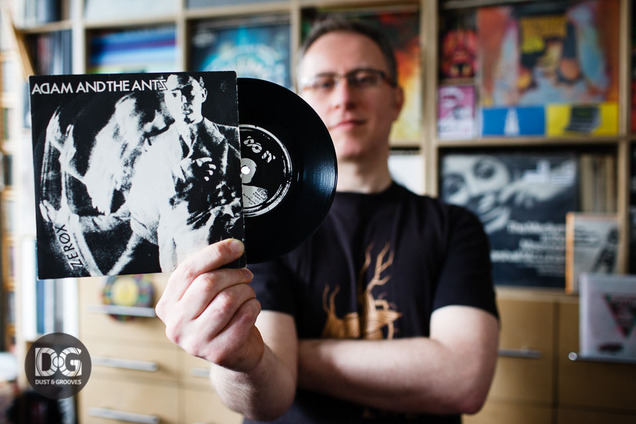 For the final track (the encore if you like) I've chosen a song from an artist I've held in high esteem for decades and one which most would have assumed should have kicked off the mix rather than ended it. Adam & The Antz' 'Zerox' was the first record I ever bought – four years after it was released it has to be said – and the band were the first I would hold up as being crazy about. From the moment I heard their first chart entry, 'Dog Eat Dog', on the radio I was in love with this group as an impressionable 10 year old and as soon as I got a turntable their back catalogue was the first one I collected. For me their early post punk period that this hails from stands the test of time the best and I finally saw Adam live only last year. Ending where I began seemed to be the best option for a 140 bpm punk single rather than try to sandwich it between Kraftwerk and Queen, it's rightly home on the timeline.
So, that's a little trip back in time through the tracks that impacted upon my impressionable mind for the first 20 years or so of my life, maybe one day I'll do an 'Influences Pt.2', kick off from 1992 and see what surfaces. It's funny reading all this and the D&G article back (originally done about 18 months ago) – this is where I've been and although I still hold many of these records dear there's still a long way to go until we arrive at where my head's at today.
The new edition of the Dust & Grooves book is about to ship out as of writing – you can buy it here.