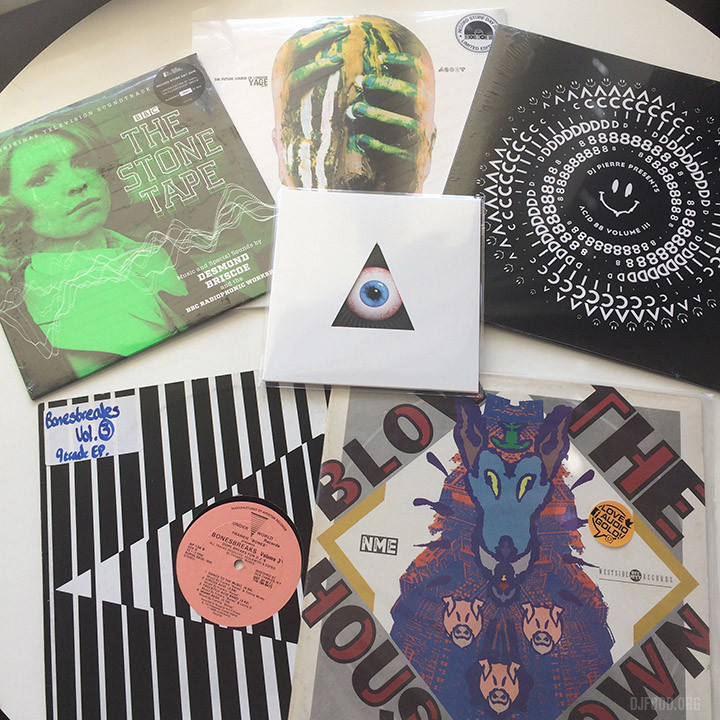 Just so much going on at the moment, hard to keep track – Record Store Day was great fun, got a few releases (the Yage and Acid 88 releases are excellent, the Stone Tape less so). Played silly flexi discs at Audio Gold with Shane Quentin first thing, the shop was bustling and my Jonathan King 'Lick A Smurpf For Christmas' disc got a cheer. The staff generously treated us to pizza and drinks as well as pushing a couple of filthy flexi's my way – thanks guys!
Excellent package of the day goes to the Kubrick 7″ from Silva Screen which is a delight on many levels even though it's actually Wendy Carlos arrangements re-recorded by Mark Ayres and not quite what it was sold as on the original RSD info mail out. The Acid 88 design is also particularly tasteful with the label designs causing some excellent flickering motion when revolving.
After this we headed down to Palace Vinyl in Crystal Palace for a bit of acid techno with the Downfall crew and a dig through their considerably stuffed crates – if you want any kind of secondhand electronic dance music from the last 30 years then this is the place to go although they mainly sell online. The new Corroded Circuits EP on their label is another winner.
Last stop was the Book & Record Bar in West Norwood where we nearly didn't get in it was so packed for the showing of Shawn Lee's 'The Library Music Film', a 2 hr journey through the medium that had our legs aching as we had to stand the whole way through. Records were bought, played and beers consumed afterwards too and it rounded off a great day with friends and a set from King Michael that culminated in a shop-clearing Goblin tune.
Monday saw a private showing of Vickie Bennet's 'Gone, Gone Beyond' 360 degree film at Goldsmith's College, a kind of fever-dream across multiple screens with surround sound that made me wonder if she was sane. Collage cross-referencing across multiple decades and genres was the order of the day with a particularly successful hall of mirrors sequence and crazed compression of what seemed like my 70's childhood for a finalé. If you get the chance, go and see it but it's only showable in a tiny amount of spaces due to the nature of the surround medium.
Tuesday night saw Shane, myself and Jonny Trunk at Spiritland in Kings X for the Wobbly Sounds book launch, playing flexi discs on their mega sound system – it sounded awful! 😀 It didn't matter though as the place was packed and everyone had a great time, especially the Four Corners Book publishers Elinor and Richard. I ended up chatting to actor Paul Putner (aka The Curious Orange from This Morning With Richard Not Judy among many other roles) who is a massive music fan who really knows his stuff.
Off to Bristol this Saturday for the second performance of my Kraftwerk: Klassics, Kovers & Kurios AV show at the Cube Cinema with DJ Cheeba, which is sold out! There are two mixes forthcoming this month too, one imminently and one on the 27th – both very different, more info soon.