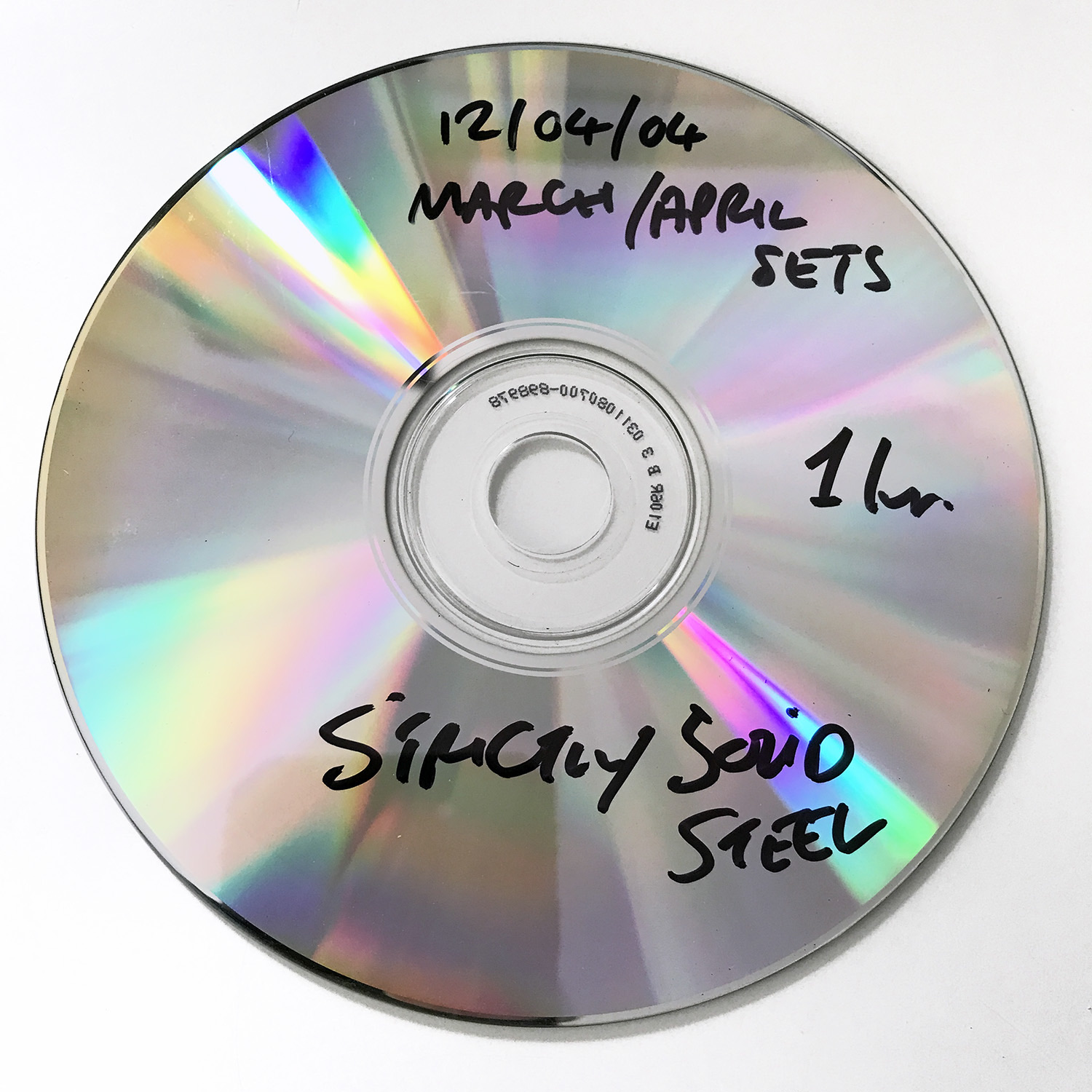 An approximation of a DJ Food club set around 2004, this is the kind of thing I was playing out at the time via two decks and a CDJ, still using vinyl, no Serato yet. Kicking off with Peloton's entry for the Solid Steel intro competition which we'd conducted via the Ninja Tune forum. Sounds like I was plundering the Megatrip Soundbank collection of spoken word for samples featuring the word 'more' too over Roots Manuva and Ty's 'Oh You Want More?'. This, Alex Cartana and the Rootz n Works rework of Prince's 'Sign of the Times' were examples of the Bangra rhythm style made popular by Missy and M.I.A. around this time. Speaking of Missy, here she is with Timberland over a bit of 'Dark Lady' although I can only hear The Human League's 'Being Boiled' with this since our second Solid Steel mix CD.
A little funk section from That Kid Named Miles, Quantic Soul Orchestra (featuring Alice Russell), Roy Budd (from the 'Vigilante! Remixes EP) Nostalgia 77 and Bobby Shad – (from Coldcut's Life:Styles compilation of the same year) before a brace of hip hop numbers from Edan & Insight, a mash up of Obie Trice by Dizzy Bull and classic UK old school from Caveman. Back to the funk with classic Roy Ayres and I get scratch happy with Double Dee & Steinski's James Brown cut up, 'Lesson 2' before things go into the unexpected with the I Royals' reggae cover of the Coronation Street theme. This was possibly the first outing on the show too for my now good friend Stephen Coates' Real Tuesday Weld with his 'Bathtime In Clerkenwell'.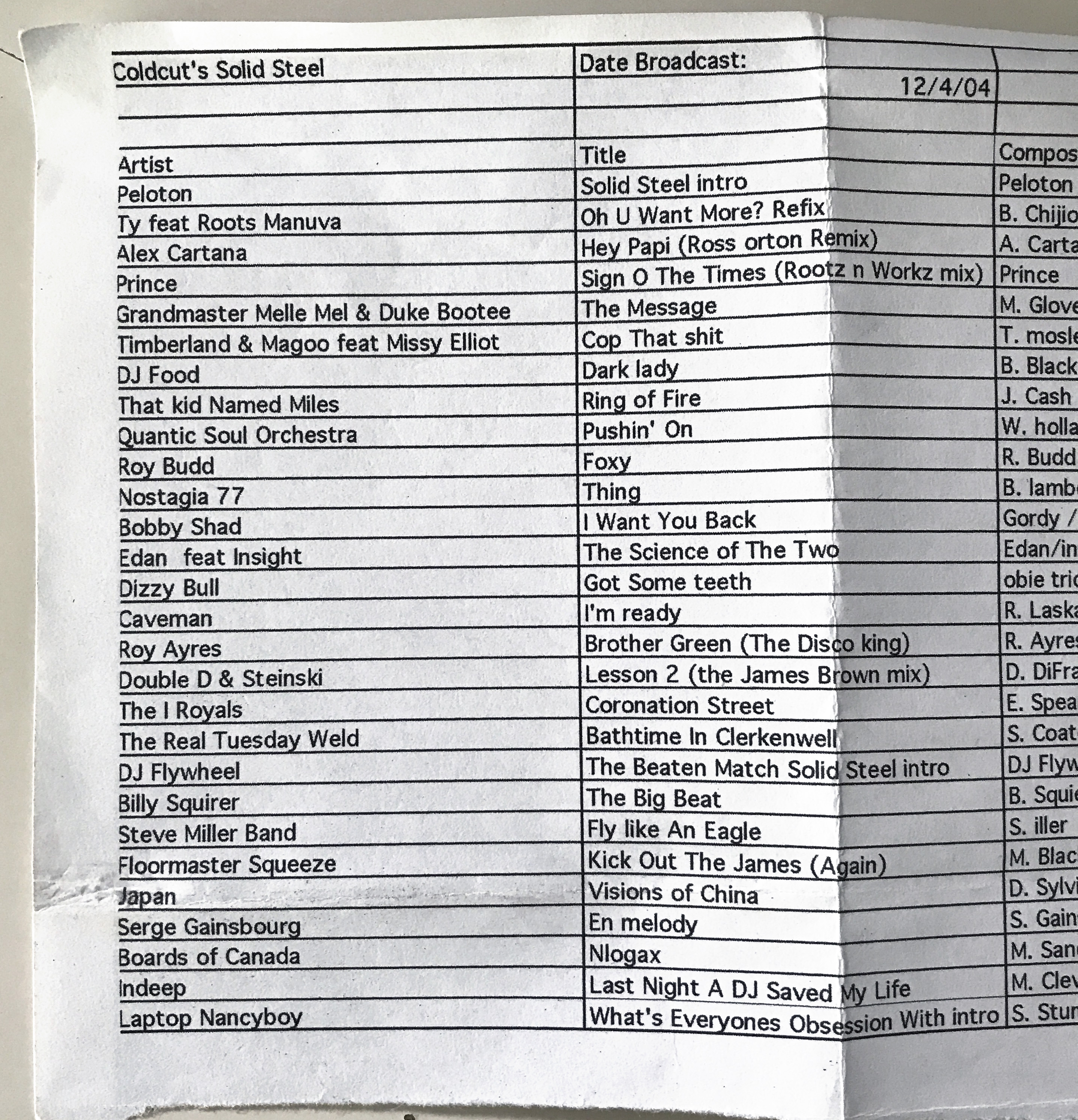 Another Solid Steel intro entry, this time from DJ Flywheel, for a change of tempo into Billy Squier's (big) beat break into Steve Miller's equally classic B-Boy sample-fest and general all round anthem, 'Fly Like An Eagle'. Not sure what I was thinking with this section, it's a very odd selection of tunes, possibly more linked by tempo than anything else although Floormaster Squeeze (aka Coldcut) goes pretty nicely into Japan's 'Visions of China'. Japan into Serge Gainsbourg into Boards of Canada – not something I'd attempt most days but it sort of works, especially the Indeep track over the top of the latter, something I'd repeat years later in my 'O Is For Orange' mix. We end as we began with another jingle competition entry, this time from Laptop Nancyboy, I wonder what happened to them?
Track list:
Peloton – Solid Steel intro
Ty feat. Roots Manuva – Oh U Want More? Refix
Alex Cartana – Hey Papi (Ross Orton Remix)
Prince – Sign 'O The Times (Rootz n Workz mix)
Grandmaster Melle Mel & Duke Bootee – The Message
Timberland & Magoo feat. Missy Elliot – Cop That Shit
DJ Food – Dark Lady
That Kid Named Miles – Ring of Fire
Quantic Soul Orchestra – Pushin' On
Roy Budd – Foxy
Nostalgia 77 – Thing
Bobby Shad – I Want You Back
Edan feat. Insight – The Science of The Two
Dizzy Bull – Got Some Teeth
Caveman – I'm Ready
Roy Ayres – Brother Green (The Disco King)
Double D & Steinski – Lesson 2 (The James Brown mix)
The I Royals – Coronation Street
The Real Tuesday Weld – Bathtime In Clerkenwell
DJ Flywheel – The Beaten Match Solid Steel intro
Billy Squier – The Big Beat
Steve Miller Band – Fly like An Eagle
Floormaster Squeeze – Kick Out The James (Again)
Japan – Visions of China
Serge Gainsbourg – En Melody
Boards of Canada – Nlogax
Indeep – Last Night A DJ Saved My Life
Laptop Nancyboy – What's Everyone's Obsession With Intros?