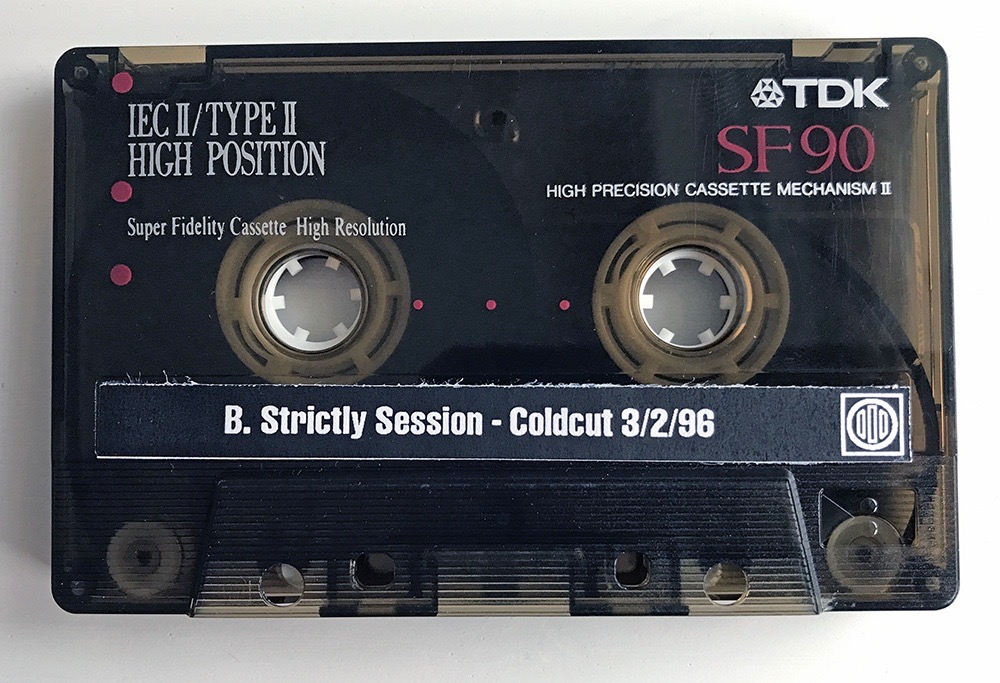 Side B of an old tape from 1996, the A side of which was uploaded last week. Wishmountain aka Matthew Herbert's short 'Welcome' crashes into the Coldcut jingle to start, opening his debut 12" on the Evolution label, 'Radio'. The next track is from my old mate Mark Nicholson, Osymyso to some, from his second release, 'Peter And The Wolf'. This is 'Wolf' and it was after I played this that we met at The Blue Note one night and a mutual appreciation society was formed. The stuttering track that follows it I have no idea of and Shazam doesn't know either, anyone? I'd really like to know what this one is actually, the track back at the end identifies it as 'The Outcast' but I can't find anything that fits that name. The Brotherhood's 'Mad Heads' floats in with its refrain of The World's Famous Supreme Team phone call – super tough UK hip hop with production by The Underdog.
Another mystery is the next track sampling Soul II Soul's 'Back To Life' – the sounds American to me, going by the track run down near the end of the set it's DJ Double S's 'Feel The Melody' from the Hip Hop Madness EP, a cut and paste 12" of the time I vaguely remember having an oversized label. So many people think of the UK when they think of trip hop but it was happening over in the US too with labels like New Breed putting out all manner of blunted beats. Octagon Man 'The Rimm' is next, this is a bit of an aggro session, lots of distortion and heavy beats, I did like it hard and heavy back then, I think I scared Coldcut and PC a bit sometimes with my preference for the hard stuff.
I'm really not doing well on this track list, Mixcloud is going to be penalising me for having too many tracks by 'unknown' in this set. The slow burn acid track I've no idea, help me out people, Shazam has given me five different results for this generic roller. The fast breakbeat cut up that slides out of it is by Funky Monkey, 'LA Riot' and by a process of elimination I think this is the Channel Zero mix by Andy Bell of Ride / Oasis / GLOK fame no less, according to Discogs. Great stuff, so much has slid under the radar over the years.
There's a very abrupt change of tempo as I slam into another track I actually know! Aubrey Pasternak's only release for Clean Up Records, the Star Wars sampling 'New Hope' – a great cut up that can still be had for pennies. Primal Scream's excellent, Weatherall-produced 'Trainspotting' from the film of the same name follows, what a delight to hear this again. Matt Black can't believe it's them but comes to the rescue with a vague run down of the tracks at the end which saved me from presenting you with a virtually blank sheet for a track list.
At the end of this tape was a section of an ambient mix that I'd taped over, I'd estimate it was probably done three years before as it contains a couple of tracks I recognise from the time that we played a lot at the Telepathic Fish ambient parties that came before I joined the Ninja crew.
The first track I don't recall but the Twin Peaks-sampling tune was always a favourite of my DJ partner at the time, Mario Aguera. It was the final version of 'Days In The Trees' by No-Man from their third single – proper chills down the spine stuff and will set you back £20 at least these days owing to Steve Wilson's popularity. The brief snatch of track after it is by Hypnotone, an act who have seemingly been forgotten but had a couple of albums at the cross section of bleep, techno and ambient which are well worth tracking down. 'God C.P.U (Ambient)' is from their second, 'Ai' which, along with The Orb's Adventures Beyond the Ultraworld, The Shamen's En-tact and 808 State's 90, we played to death at the start of the 90s. I've left this in as it's a nice reminder of those times but wasn't part of the Solid Steel show .
Track list:
Wishmountain – Welcome
Osymyso – Wolf
The Outcast – Unknown
The Brotherhood – Mad Heads
DJ Double S – Unknown
Octagon Man – The Rimm
Unknown – Unknown
Funky Monkey – LA Riot (The Channel Zero edit)
Aubrey Pasternak – New Hope
Primal Scream's – Trainspotting
– bonus ambient mix section
Unknown – unknown
No-Man – Days In The Trees (Reich)
Hypnotone – God C.P.U (Ambient)