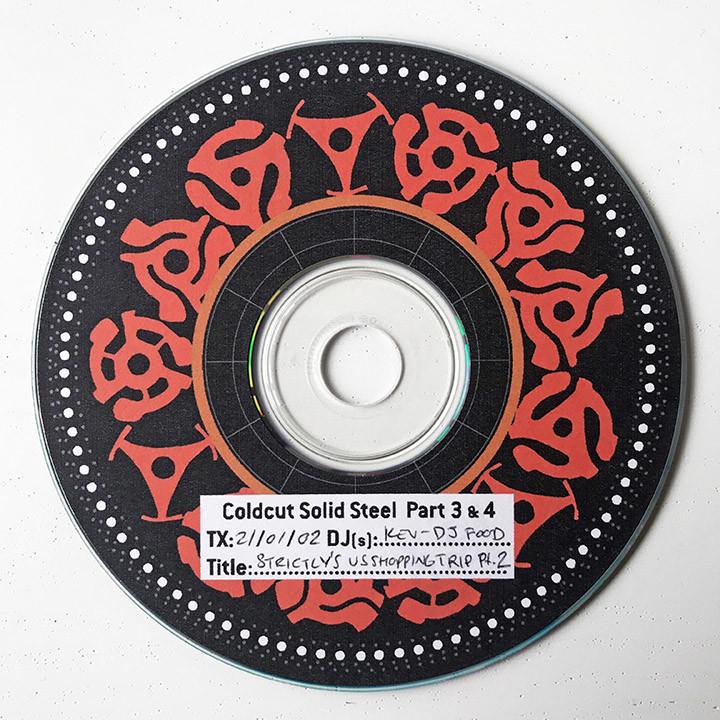 Last week I posted a 30 minute set made from records bought on a 2002 tour to the States and Canada with DK, Four Tet and Bonobo. Given that this was the great tour where we shipped kilos of records back to the UK mid-tour (detailed in part in Stevie Chick's Ninja Tune history book) and we only had 30 minutes to play with, I had loads more records to plunder so this week's upload is an hour long part 2 of the shopping trip that aired two weeks after the first. Above is a home made CD label version of the mix which aired in the second hour of the Jan 21st 2002 Solid Steel show. After last week's upload I was told the sad news that Bop Street in Seattle (where some of these records came from) had to close due to the pandemic. I dug out some photos from the tour including the basement underneath and I think the shot of me in from of a wall of 45 boxes is also from there.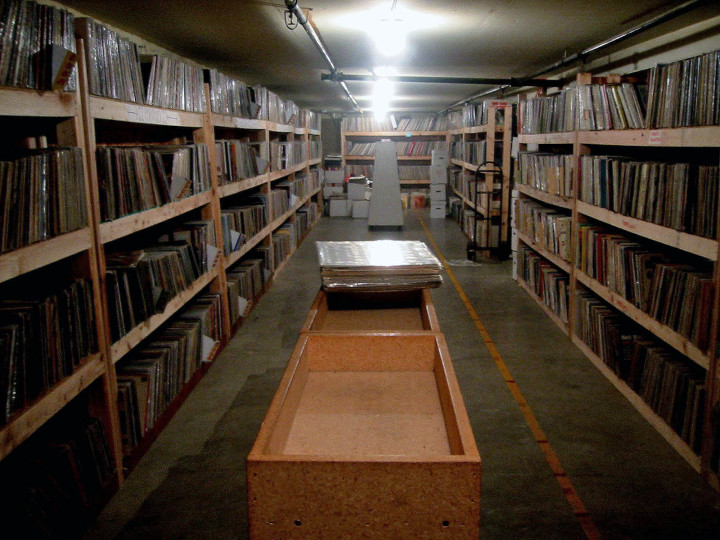 Some great tracks in here, not just from the tour but new promos and oldies too. More Jazz Club samples from The Fast Show in the intro into the Pointer Sisters 'How Long' and a mash up by Matmos of Missy's ubiquitous at the time 'Get UR Freak On'. They did it a little differently by sampling the sounds of coins to make the beats I seem to remember and there's a nice little back and forth between the tracks at one point over the 'I know you got a chick on the side' refrain. The same happens between the Bill Cosby and Curtis Mayfield tracks where Cosby is having an imaginary conversation with someone on his track where you can only hear his side, talking about someone called Freddy who died. By chopping in Mayfield's 'Freddie's Dead' I could make the two tracks have a conversation even though the tuning is a little off in places.
Sidney Pointier made several spoken word albums in the 60s, his voice reminiscent of Rosko or Ken Nordine, reciting poetry over jazz and he flows into a curious 7" picked up in Toronto by The Casuals. 'Moonbound' is a novelty trip to the moon travelogue with a stewardess delivering the journey's progress over a lovely easy listening ditty. When I met my current partner nearly 15 years later she was the only other person I'd ever met who had a copy. At the time the show went out, the first promo from the forthcoming Boards of Canada album, 'Geogaddi', had turned up, untitled. I now know that this was the track 'Alpha & Omega' and weirdly, I put some recordings of children from a Tony Schwartz album over parts of it only to find out later that the Japanese CD of the BoC album had a bonus track sampling voices from the same record.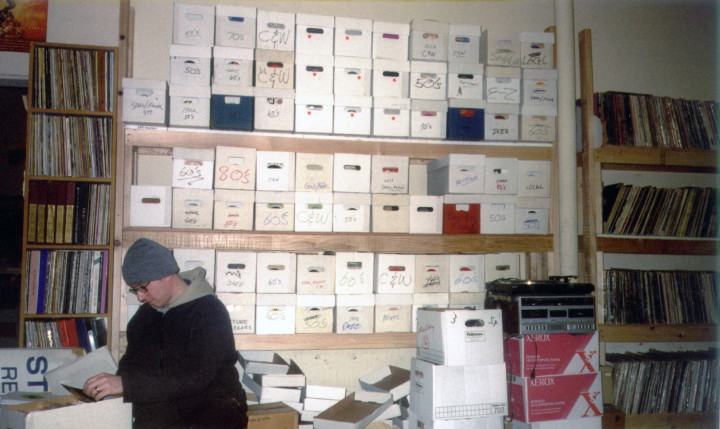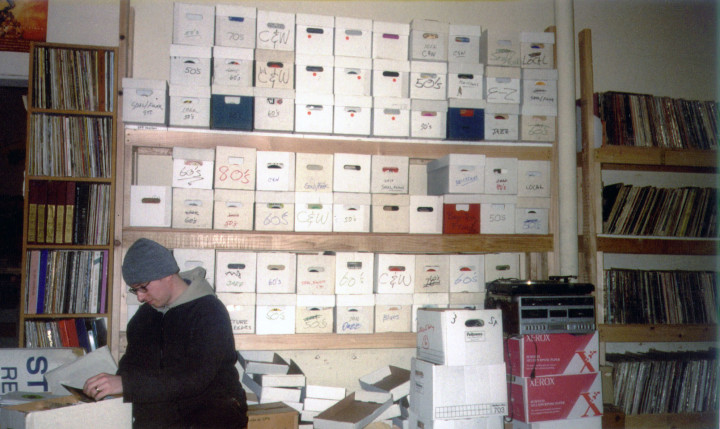 Kousik's debut 45 had been given to me by Kieran on tour, released on his Text label and that slips easily into Edan's excellent 'Adrenalin Rush' – beautifully capturing the original excitement of 80s golden era hip hop without sounding retro. After this the mix bounces all over the place through jazz, electronics, spoken work and soundtracks. The David Pritchard track is from a great but odd Canadian electronic experimental album I'd picked up called 'Nocturnal Earthworm Stew', which has since been reissued and you can find here https://davidpritchard.bandcamp.com/
One of the phone messages is from Malachi aka Flying Fish and now head of the Dynamite Cuts reissue label although I don't remember the mix he's talking about. Spot the DJ Food samples in 'The Stripper'… Nervous Nervous made loads of novelty singles and 'Dig' had to be bought just for the vinyl collecting connection.
More Jazz Club over an excellent cover of 'So What' by George Benson way before his smooth 80s soul period and then into electric Bo Diddley with 'Bad Trip' – so good! I have no idea why there are two Adam & The Ants tracks at the end as I most definitely didn't buy them on tour, 'Zerox' was the first record I ever bought so maybe these two were filling up the hour and I know DK has a thing for this era of the Ants too.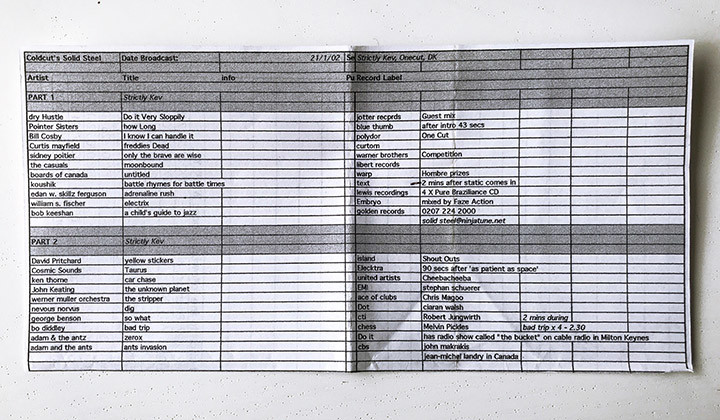 Track list:
Solid Steel intro
Pointer Sisters – How Long
Dry Hustle – Do It Very Sloppily
Bill Cosby – I Know I Can Handle It
Curtis Mayfield – Freddie's Dead
Sidney Poitier – Only The Brave Are Wise
The Casuals – Moonbound
Boards of Canada – Alpha & Omega
Koushik – Battle Rhymes For Battle Times
Edan w. Skillz Ferguson – Adrenaline Rush
William S. Fischer – Electrix
Bob Keeshan – A Child's Guide to Jazz
David Pritchard – An Admission of Guilt
Cosmic Sounds – Taurus
Ken Thorne – Car Chase
John Keating – The Unknown Planet
Werner Muller Orchestra – The Stripper
Nevous Norvus – Dig
George Benson – So What
Bo Diddley – Bad Trip
Adam & the Antz – Zerox
Adam & the Ants – Ants Invasion