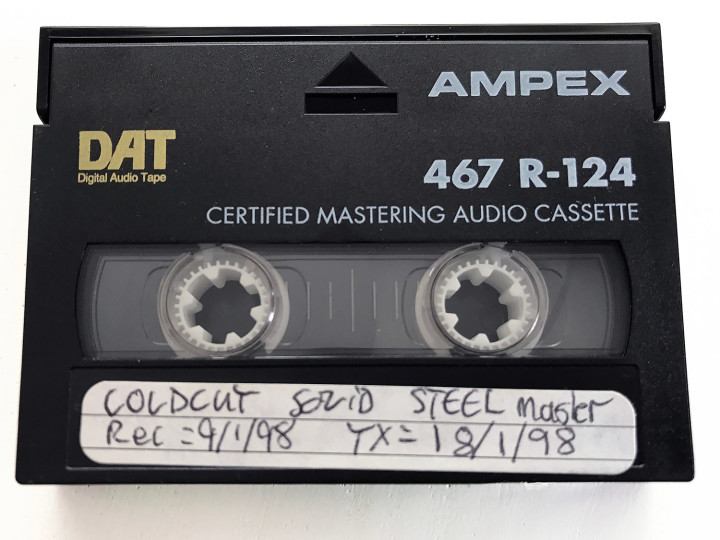 This mix was the third part of a show where I tag-teamed with Riz Maslen aka Neotropic, each doing two half hour mixes. Recorded up at Ninja Tune HQ in Clink St before it moved and engineered by Ali Tod who added samples and effects whilst watching the levels.
A more restrained intro with Fridge's Steve Reich-esque 'Astrozero' from their Anglepoised release on Output Recordings blending into 'Orgien IV' which was a really odd LP by Khan I found in New York on tour. Khan is the brother of Cem Oral, part of Air Liquide, and they would often feature on the same compilations so I'd always look out for his work which could range from acid techno to ambient. Around the time he was living in NYC and owned a record shop in Manhattan called Temple Records (quite possibly where I found this) and a label of the same name. The album came wrapped in a huge A1 sized poster printed on newsprint that was folded around the disc.
We pick up the pace with the excellent 'Ape Shall Never Kill Ape' from UNKLE, possibly the last everyone-pile-into-the-studio-and-see-what-comes-out track from James Lavelle and co. before Shadow stepped in a took the reigns. It's an excellent breaks and Planet of the Apes soundtrack cut up with scratching by Tony and Joel from The Scratch Perverts and production by Jadell but we can now see that James had his eyes on something a bit bigger in scope. This was later retitled as 'March of the General' and released on Nigo's album in 2000, this would have been from a Japanese 12" release at the time I played it. A really rather ropey mix of Stasis' 'Samba de Fat Bloke' lurches into the fray and shows that just because two things are in time, they don't necessarily go together smoothly.
I'd completely forgotten this A Reminiscent Drive track, aptly named 'The King & The Elephant' because it sounds like a large mammal lumbering along, from his debut album, Mercy Street on F Comm. 'Iced Cooly' by Boards of Canada is from their debut 12", Twoism and yes, this was played from an original copy which I still own – proof I had one back in '98. The Fifty Foot Hose track isn't from an original sadly, from another one of those dodgy Italian compilations that were so prevalent in the late 90s (The Might Mellow – A Folk – Funk Psychedelic Experience) and we close with the beautiful 'Lillian Lust' by Dudley Moore from the Bedazzled soundtrack.
Fridge – Astrozero
Khan – Orgien IV
UNKLE feat. Nigo & Scratch Perverts – Ape Shall Never Kill Ape
Stasis – Samba de Fat Bloke
A Reminiscent Drive – The King & The Elephant
Boards of Canada – Iced Cooly
Fifty Foot Hose – Rose
Dudley Moore – Lillian Lust