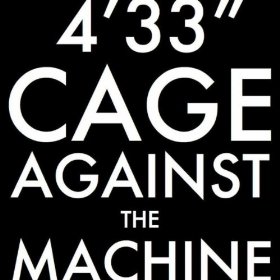 It's that time – the race for the (UK) No.1 spot in the charts. This year I'm fully behind the Cage Against the Machine rework of John Cage's 4'33", the famous 'silent' piece. Here are links to buy the Cage single and a video of the rerecording made in London the other week.
Every purchase of 4'33 will now count towards the Christmas Chart – you must buy the 'Cage Against the Machine version though – you can buy the original on it's own or the full package of remixes, either will count as a purchase. Please keep spreading this and remember  proceeds go to various charities for the deaf or those with impaired hearing

For this to work we need to give this a really big push and now!!
Just Giving charity for the deaf
BUY Cage Against the Machine on iTunes
BUY Cage Against the Machine on Amazon (cheapest!)
BUY Cage Against the Machine on 7 Digital
BUY Cage Against the Machine on HMV Digital