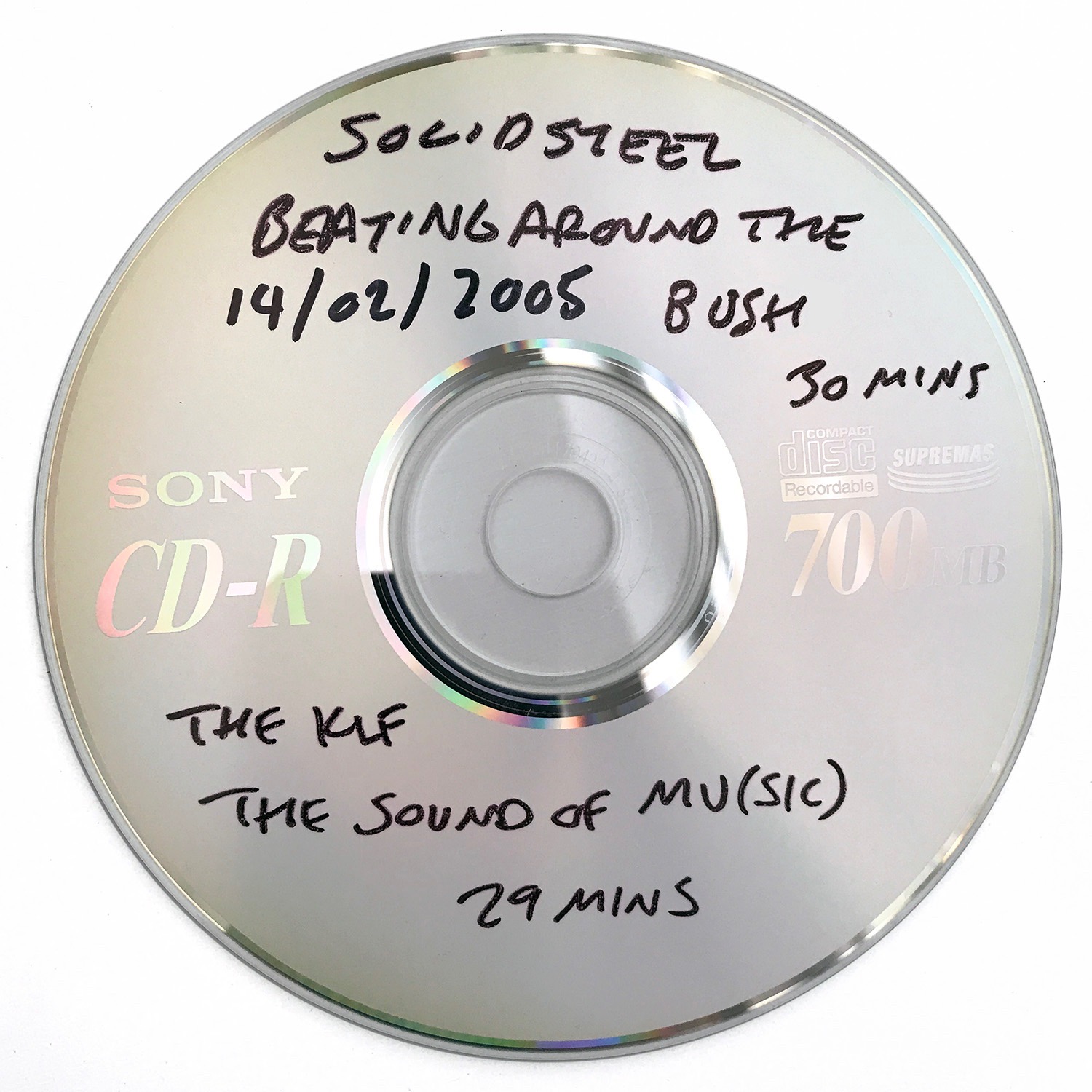 This was a last half hour in early 2005, we'd traditionally save selections like this for the last slot, material that was a bit more esoteric and unusual, something to wind down with rather than kick off the show and risk people turning off. It's a game of two halves but both are played for laughs with the former being country cover versions of hip hop classics and the latter being George Bush cut ups, mainly focused on the War in Iraq.
Ricky V Valentine's 'Ghetto Classics' (split into two halves here) first appeared on the Souvenirs EP via the Leeds-based C Side Trax label and is – as far as I know – the only thing released under that name by whoever was behind it. It's a brilliantly observed take off of Grandmaster Flash, NWA, Outcaste and Jay Z and more of a skit than a song. Nina Gordon was in mid 90's band Veruca Salt, an indie/grungy pop band who the UK press loved for a minute which is why it's so odd to hear her cover NWA in such a delicate way, brilliantly absurd. I probably got it from the internet but it turned up on what looks like a bootleg 45 years later in 2010 with a Richard Cheese cover on the flip which makes an appearance next with his take on Snoop Dogg's 'Gin & Juice'.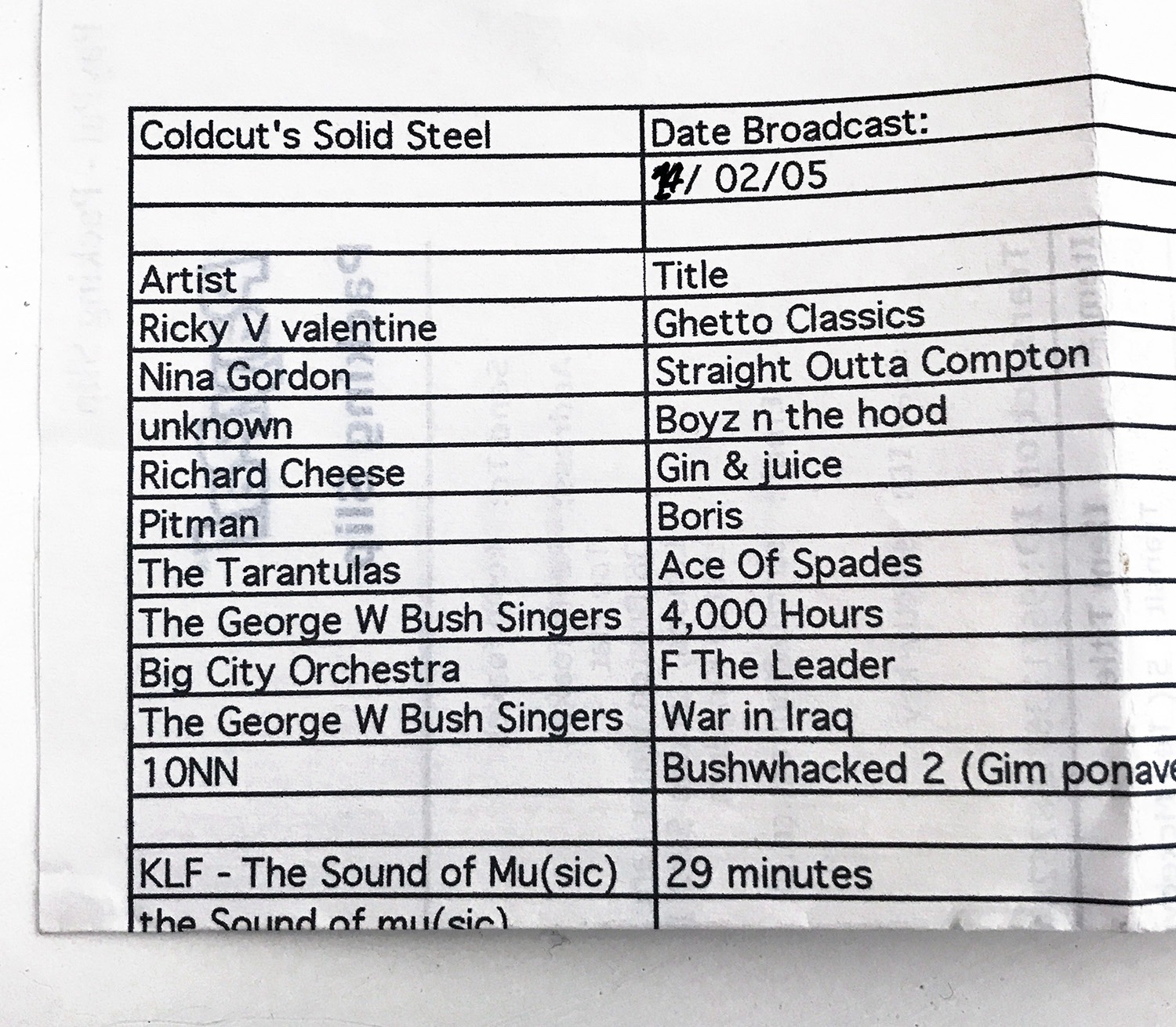 Through the power of Discogs I've finally discovered who did the cover of 'Boyz In (N) The Hood' – it was alt rock band Dynamite Hack (no, me neither) – there's a cheesy frat boy golfing video on YouTube to go with it too. Then we have tales from Boris 'the hip hop roadie' from Pitman's second LP, according to Boris he was the catalyst for most of hip hop's founding moments. No idea where I found the 'Ace of Spades' cover (probably online, it was the file-sharing 00's) but the vocal is a dead ringer for Lemmy or they found the multi-tracks somewhere.
Now comes the George Bush half of the set with the bizarre George Bush Singers shadowing lines cut from Bush speeches. This comes from a whole album entitled 'Songs In The Key of W' which I'm now keen to hear and has sent me down a YouTube/Discogs wormhole. Big City Orchestra have been making cut ups in the tradition of Negativland for decades and they have a special take on George, the origin of which I've no idea as their discography is so huge. After another blast of the GWB Singers we finish with 'Bushwhacked 2' – a collaboration by Chris Morris and Osymyso released on Warp records with this being a remix by Jonathan Whitehead. Dubya was the subject of many cut ups over the years with his speeches an easy target for re-editing, these weren't the first or the last to be featured on Solid Steel.
PS: As you can see my KLF mix was also archived on this disc although it wasn't broadcast on this show, to hear it you can go here https://www.mixcloud.com/strictlykev/the-sound-of-music/
Track list:
Ricky V Valentine – Ghetto Classics Pt.1
Nina Gordon – Straight Outta Compton
Richard Cheese – Gin & Juice
Ricky V Valentine – Ghetto Classics Pt.2
Dynamite Hack – Boyz In the Hood
Pitman – Boris
Twistin Tarantulas – Ace Of Spades
The George W. Bush Singers – 4,000 Hours
Big City Orchestra – F The Leader
The George W. Bush Singers – War in Iraq
10NN – Bushwhacked 2 (Gim Ponavesspa conclusion)