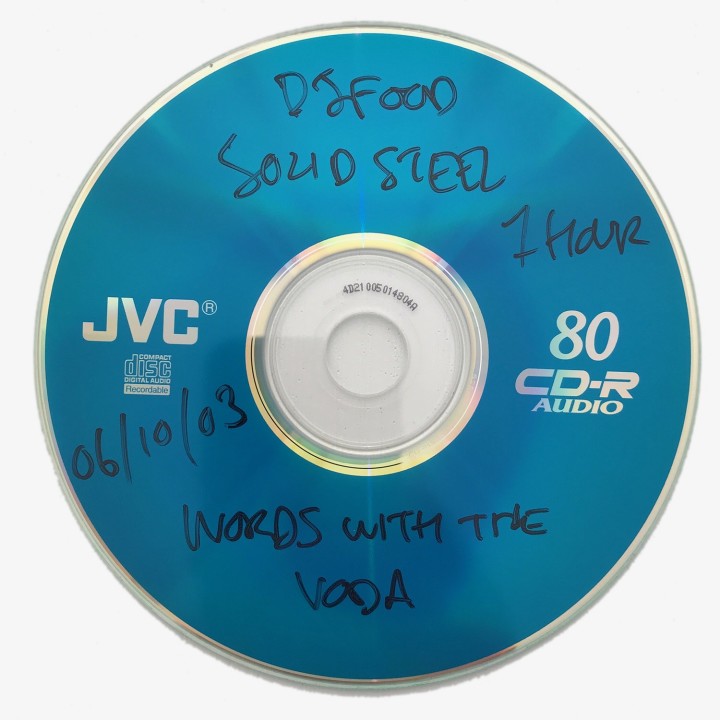 Track notes:
I was intrigued to pull this set out because I don't remember much about it, especially the Henry Rollins track at the end, so curiosity got the better of me. Around 2002/3/4 I was pretty productive on the Solid Steel front and probably put more hours into some of these mixes than at any other time. This was pre-being a parent so the hours were there and this is what I'd call a proper mixed bag style wise, veering from break-led cut ups to electronica and 80s synth pop as the mash up era continued with Richard X now in the charts.
Lots of the usual suspects on the list of labels played, Stones Throw, Output, Twisted Nerve, Skam and of course Ninja who were still on a creative roll after the tenth birthday three years before even through the record industry was slowly falling apart around our ears due to downloading.
'Words With The Voda' in the title refers to a sample about a computer that's used throughout the mix although I can't remember where I got it from. But John 'Voda' (actual name John Moore – not the Jon More from Coldcut) was the name of the guy who mastered a lot of Ninja Tune's records over the years. He started off in a little studio in the Canary Wharf building that also housed Ninja, Hex/Hexstatic, artist Shiv and the Hydrogen Jukebox label and slowly progressed to the whole of the top floor. When we moved out of London Bridge at the turn of the century he moved into the middle of Soho and had a full mastering and repro operation going and I remember going there to master the 'C Is For Cookie' and 'Pinball Number Count' release. A quick google reveals virtually nothing of his current whereabouts – anyone know what happened to him?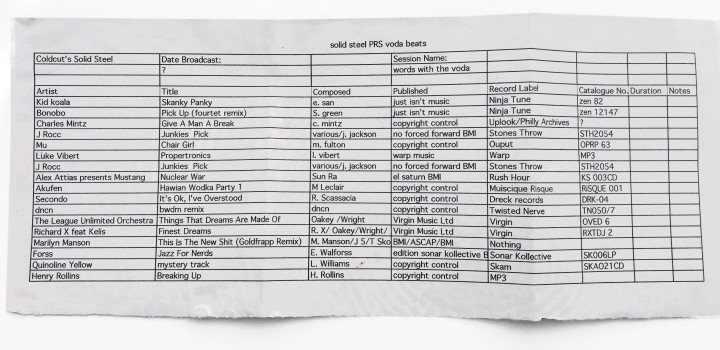 There's some buried treasure on here for sure – Alex Attias' version of Sun Ra's 'Nuclear War' (with my reversed expletives for radio), Mu's 'Chair Girl', Goldfrapp's remix of Marilyn Manson… Ah yeah and I remember that Rollins sketch now, it's worth the wait, "evil woman, look out!"
Track list:
Kid Koala – Skanky Panky
Bonobo – Pick Up (Four Tet remix)
Charles Mintz – Give A Man A Break
J Rocc – Junkies  Pick
Mu – Chair Girl
Luke Vibert – Propertronics
J Rocc – Junkies  Pick
Alex Attias presents Mustang – Nuclear War
Akufen – Hawian Wodka Party 1
Secondo – It's Ok, I've Overstood
dncn – bwdm remix
The League Unlimited Orchestra – Things That Dreams Are Made Of
Richard X feat. Kelis – Finest Dreams
Marilyn Manson – This Is The New Shit (Goldfrapp Remix)
Forss – Jazz For Nerds
Quinoline Yellow – mystery track
Henry Rollins – Breaking Up